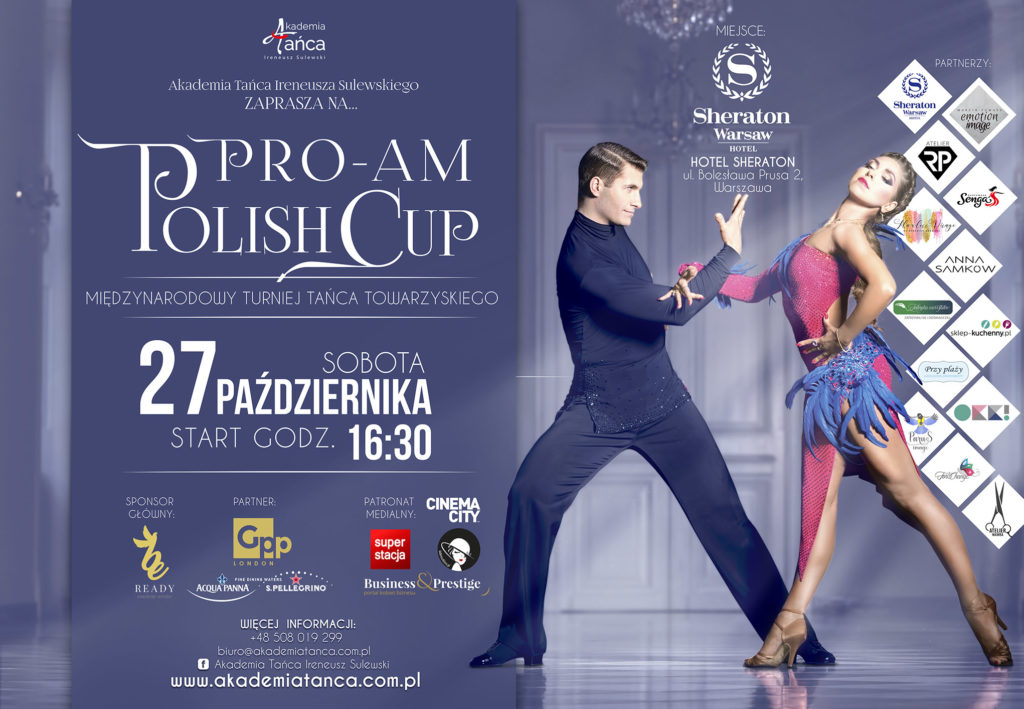 We are very happy to invite You for a an exceptional event! 
International Pro-Am Polish Cup ?
Professional dancer and amateur together in a dance competition!
27.10.2018r. Warsaw
Start: 4:30 p.m.
Place:
Hotel Sheraton
ul. Bolesława Brusa 2
00-493 Warszawa
http://www.sheratonwarsaw.pl/
Regulations and application forms on our website:
https://www.akademiatanca.com.pl/proam/
Organizer:
Patrycja Matyja
e-mail: p.matyja@akademiatanca.com.pl
phone number: +48 508 019 299
Spectator/reserved seat tickets for guests
Package I "White"
Entry ticket – 80 zł -18€
Package II "Bronze9
Entry ticket + drinks (hot and cold ) for 6 hours – 125 zł – 30€
Package III "Silver"
Entry ticket + drinks (hot and cold ) + alcohol (wine, beer, vodka, whiskey ) for 6 hours – 175 zł – 40€
Package III "Gold"
Entry ticket + dinner – 195 zł – 45€
All tickets can be obtained in our offices from 1.08.2018r.
You can also buy tickets via money transfer. In the title of the bank transfer write your full name, e-mail address and which package you choose. Service is available from 1.08.2018
Bank account:
KS "AKADEMIA TAŃCA"
Miedziana 3a/13, 00-814 Warszawa
VOLKSWAGEN BANK POLSKA S.A.
43 2130 0004 2001 0365 7210 0001
You can book accomodation for 26/27/28 October in special prices at the password – "ProAm":
356 zł – 85€ with breakfast – single room
428 zł – 102€ with breakfast– double room
You can book your stay here:
https://www.starwoodmeeting.com/events/start.action?id=1807111501&key=DC2EE2C
You can book a room at a special price to 30.09.2018r.
Come and join us!!!
We are waiting for You!!!